Client Server version now available!

ArchiAdmin will revolutionize
your design office!
ArchiAdmin tracks your work and costs and shows the status of your project at all times.
ArchiAdmin manages inventories, ordering, staff time costing, and sub-contracting.
ArchiAdmin is flexible - set your own accounting period.
ArchiAdmin integrates with MYOB Attache and Pastell.
ArchiAdmin provides a timesheet system which runs in the background for instant updates on entire projects.
Comprehensive training is available.
Money back guarantee on return of CDR and manuals within 30 days of purchase.




Reduce your letter-writing load!
Add to your advantage with ArchiAdmin.

This vital software provides:

A large library of template files for Word, Excel and Project.
Macros linking with database tables and menus.
Automated correspondence, documentation support and transmittal advices.
Sensitivity to context of report or form being used.
Easy installation not requiring detailed programming skills.
Configuration by on-screen form-filling.
Additional installation and online support service if needed.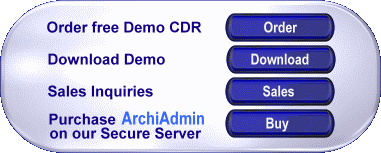 | | | |
| --- | --- | --- |
| Would you like to comment on our product, web site or other issues? | | ArchiAdmin is awarded to be featured for a Construct IT Case Study. |

ArchiAdmin system requirements:

IBM Compatible PC with Windows 3.x, Windows 9x, Windows 2000 or Windows NT.
Minimum hardware required is a 486DX2-66 with 16Mb RAM and CD-ROM, however the recommended system is a Pentium 120 (or better) with 32Mb RAM and CD-ROM.



Home | Main | About | Features | Demos | Orders | Training | Links | Support | Sales | Site Map
ArchiAdmin
PO Box 300
KENMORE Q 4069
Mob: 0450 485 534