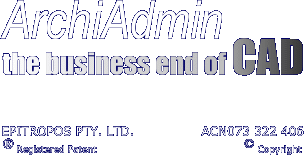 ArchiAdmin Financial Administration Software
The ArchiAdmin business management solution, a hybrid of the EAdmin system for construction professionals is the market leader in Australia.
ArchiAdmin provides a business management solution for Architects, Engineers, Quantity Surveyors, Project Managers and Building Managers.
Financial Management system provides time costing analysis, budgeting, WIP, resourcing, invoicing, financial reporting.
The Contract Administration manages Communications, Contractual Notices, Claims, Trades and Prime Cost Items and Construction budgets.
The Document Management system, is a unique patented component which automates form production and email and defines business processes.
SQL Client Server technology enables multiple offices to communicate reliably to a shared common server over a WAN.
Internet module enables collaboration with the system over the internet.
ArchiAdmin is a collaborative business management software system for the IBM Microsoft platform which
Manages the Microsoft Office suite and provides automated email, document management and knowledge management systems;
Innovative unique Patented component which automates form production, inserts contacts and projects data into forms automatically and
Automates email and fax and letters;
Automates filing of electronic mail to a project in both document filing and data log form and enables a complete quality assured template to be easily created.

ArchiAdmin
PO Box 300
KENMORE Q 4069
Mob: 0450 485 534
Today is Dec 11, 2023.
Time is now: 02:25:53 EST
Site updated: Aug 01, 2023.
Copyright © 2023 ArchiAdmin